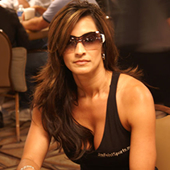 Roz Wins
Roz Juarbe is a longtime Nevada resident who, like many sports betting enthusiasts, matriculated to Las Vegas from Cleveland. She followed the Cleveland Browns growing up, suffering through several close playoff misses, and watched from Vegas in frustration the disastrous LeBron James PR campaign as he left his hometown fans.
All of that helped her realize that it's best not to get too emotional over sports teams, but instead to focus on never leaving wins and losses to luck or chance, but to put all the point spread edges in your favor. Roz has a bubbly, easy going personality that belies a steely, serious pursuit of winning at cards, baseball, basketball and football wagering.
In her debut season on the national television show Proline Roz hit 59 percent of her Pro Football releases and 57 percent of her College Football selections over the course of the season. In addition, she is a voracious poker player participating regularly in the World Series of Poker in Las Vegas and other tournaments.
She has cashed-in at many Poker Tournaments and has excelled over the years betting football, particularly the pros, where one of her specialties is identifying and cashing money-line dogs. Roz is quick to point out that winning in sports over the long haul is not fun and games, but dedication, work ethic and knowing where to find edges against the Vegas line.
Packages available from Roz Wins
Free play from Roz Wins
ROZ FREE Selection FRIDAY, SEPTEMBER 22, 2023
CFB
309. NC State -8.5 (4:30 PT / 7:30 ET)