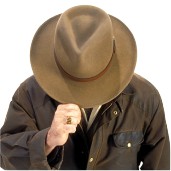 Nevada Sharpshooter
Experience! I have been handicapping since my early twenties and have done it for a living since 1996. My favorite sports to pick are college and pro football (football is still the gamblers favorite game), college basketball (the big dance is the best tournament in all of sports) and baseball (America's pastime and for many an overlooked opportunity for profit). My least favorite sports to pick, I rarely will pick NBA games. In my opinion, baseball is a much better money maker than NBA basketball day in and day out. Check out my Guaranteed Daily action and take aim at Vegas today! You can receive free football picks, free basketball picks, and free baseball picks on my free pick page every day.
Packages available from Nevada Sharpshooter
Sharpshooter's Regular Service - Wednesday!
$15.00
Our Guaranteed Sharphooter Regular Service goes 2-1 or the next day's update will be emailed to you for free. Wednesday's plays are up and ready!
Get the 100,000* MLB Silver Bullet Lock + 2 Best Bets for just $15!
Take aim with the Sharpshooter today!
Nevada Sharpshooter Monthly Package
$249.00
Nevada Sharpshooter Monthly Package.
Cash all of my daily packages (both the Regular Service and the Bullseye Locks) for the next 4 weeks for just $249! Great Value!
Free play from Nevada Sharpshooter
Your free winner for Wednesday : Take CINCINNATI/BOSTON OVER the total of 10 runs
Back on Thursday at Noon Eastern/11:00 AM Central with another Free Pick