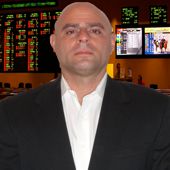 Kevin Todd
With over 22 years of experience and expertise in the sports handicapping industry, Kevin Todd has become one of the most feared handicapper's in the industry. Kevin graduated Wharton Business School at the top of his class. He went on to work for one of the largest hedge funds in the world in New York City. After three years there Kevin decided to go after his passion. His passion is the love of sports. During his years running the hedge fund Kevin met a group of sharp players that moved anywhere from $5,000 to $100,000. Kevin worked out a deal to work side by side with these gentlemen. The rest is history. This network is the most feared on the Vegas strip for the last 20 years. The group now works under the umbrella TheSportsBrokers: The MOST POWERFUL syndicate around the world.
Packages available from Kevin Todd
No packages are currently available for Kevin Todd. Please check back later.
Free play from Kevin Todd
As a Free Play for Tuesday Georgia -7 vs Louisville 6:30 pm est
Back with your next free play on Wednesday @ Noon Eastern.