To use our Charge by Phone system, or for ordering assistance, please call 1-888-827-2095.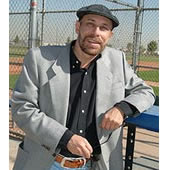 Dave Cokin
Smokin' Dave Cokin continues to make history as one of the nation's top sports gaming analysts of all time. Dave's reputation as the ultimate college sports insider expands by the year. His coveted Sunday night early college football plays literally move the number as soon as they're released and there are few analysts who can equal his big play record over the years. "The Cat in the Hat" also has the loftiest media credentials in the handicapping industry. Dave was voted as the 2004 and 2006 Nevada Sportscaster of the Year by the National Sportswriters and Sportscasters Association. He's been a radio/TV fixture in Las Vegas as well as nationally since the mid 1980's. Dave has co-hosted national network sports shows with such luminaries as Pete Rose, Bill Raftery, Matt Guokas, Dick Versace and Johnny Orr, just to name a few.
Be sure to check in every day for a FREE opinion from Smokin' Dave Cokin!
Monday Top Value Play! $25
Getting the right price for the right matchup is the name of the game in baseball. There's one game on the Monday slate that fits this thought process to a tee, and Dave has it right here, ready to get you paid!
weekly $100
All systems go for a huge play on tonight's slate. I'm releasing my INTERLEAGUE GAME OF THE YEAR. All the ingredients are there for this to be another huge big game winner, so make sure you're on this monster play. Available right here for $100.
Dave Cokin Monthly Package $299
Save substantial dollars and win big bucks all month long with daily winners from Smokin' Dave Cokin. Sign up for Dave's monthly package at a great rate and start collecting the cash tonight.
Dave Cokin Season Package $999
One time fee and you're in the money with every play Dave posts this season here at Freepicks.com!
Join the Dave Cokin mailing list
Stay informed on specials and late-breaking deals by joining the Dave Cokin mailing list!
Simply enter your email address below to sign up:
FreePlays.com will never share or sell your email address with anyone. You can remove yourself at anytime buy using the remove links found on the bottom of our emails, or click here.
Free Selection from Dave Cokin
Monday free play is Padres.
Free Selection Promo
Have a code for another free selection from Dave Cokin? Enter the code and your email below: