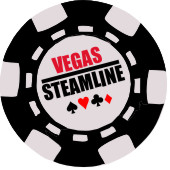 The Vegas Steam Line
The Vegas Steam Line is a unique combination of some of the sharpest sports minds in the business. With over 50 years of combined sports handicapping knowledge, the Vegas Steam Line has found a way to bring you the most consistant winning selections around. Besides being good, they aren't afraid to show you just how good they are. Win or lose, the Vegas Steam Line posted their previous days action right up on their free site. They also keep running totals of their weekly, monthly and even yearly records so you can monitor them yourself. Let the Vegas Steam Line give you the winning advantage today.
Welcome to the Vegas Steam Line. This is your direct source to the top selections in sports. Each and every day we will provide you with the top ranked selections and we will show you exactly how we are doing. Here is what we have done lately!
ALL OF OUR ACTION IS GUARANTEED DAILY!
REGULAR SERVICE
Weekly Record: 12-3 (Last Week 12-8-1) Monthly Record: 42-23-1 (Last Month 47-44-2) Yearly Record: 436-315-16 (Last Year 596-463-14)

2015 Record - 587-437-7
2014 Record - 583-447-18
2013 Record - 578-466-11
2012 Record - 613-445-9

SUPERSTEAM PLAY OF THE DAY
Weekly Record 3-2 (Last Week 4-2-1) Monthly Record: 12-9-1 (Last Month 20-10) Yearly Record: 168-85-5 (Last Year 210-138-8)

2015 Record - 216-124-8
2014 Record - 210-138-7
2013 Record - 223-126-3
2012 Record - 238-118-4
FRIDAY SELECTIONS
UTAH -3½ over Arizona WINNER
VIRGINIA/BOISE ST UNDER the total of 51½ Loser
BOSTON (Porcello) -130 over Cincinnati WINNER
SUPERSTEAM PLAY OF THE DAY (Friday)
VIRGINIA +13 over Boise St WINNER

Open a FreePlays account and we'll give you a 10% bonus on deposits over $200.